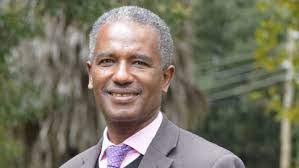 Dr. Yonas Biru is the biggest official victim of racial discrimination in the 21st century. His contribution and hard work all went in vain only because of the discriminative decisions of World Bank executives.
Let's get to know about what Dr. Biru has been put through and how things are for him right now. We will also go through the education and work experience of Dr. Biru.
Basic Info
There is not much known about the extremely successful deputy manager of the World Bank for the public as the World Bank has seized all his achievements from the public eyes. This Ethiopian set his foot in the United States in 1979 as a UN immigrant Refugee. He wanted to be a free person and make the American dream come true.
| | |
| --- | --- |
| Full Name | Yonas Biru |
| Gender | Male |
| Age | Late 50ies |
| Born Country | Ethiopia |
| Nationality | Ethiopian |
| Ethnicity | Black |
| Profession | Former Deputy Global manager of the World Bankfounder and chair of the Nile Club. |
| Education | Master and Ph.D. from the George Mason University |
| Languages | English, Amharic |
Education
From a very early age, Dr. Yonas Biru was quite bright and observant. He tried to understand what was happening around him and what was important. Even when he was struggling as a UN refugee, he did not stop learning.
He studied and worked wholeheartedly for that and completed his Master's and Ph.D. from the George Mason University of USA in 1993. The World bank recruited him right after his Ph.D., but that did not stop him from learning more.
Dr. Biru learned from his work through traveling to many countries and continents, communicating with people, and analyzing different strategies. While he worked as a researcher at the World Bank, he kept learning new strategies and made projects successful using his learnings.
Even when he was pushed backward and struggled to stand for himself, he did not stop learning and working as an economic analyst. Currently, he is sharing his understanding of economics through Ethiopean televisions and seminars.
Professional Life
Dr. Yonas Biru has worked as an executive of the World Bank for the longest period of his professional life. He also is the founder and chair of the Nile club.
Most parts of the professional life of Dr. Yonas Biru were around the success of the World Bank. He started working at the World bank in 1993, right after completing his Ph.D. He has worked on various International and critical programs and made them successful. In 1999 he carried out the duty of overseeing one of the most important International programs of World Bank history, the ICP. He saved one of the most critical and important projects of the World Bank and IMF from the verge of collapsing.
He worked as a deputy Global manager for World Bank for more than seven years and as an acting Managing Director in the absence of any 'White Managing Director' for one and a half years. Yet when he tried to officially apply for the post of managing director, World Bank prevented him from doing that.
Europeans didn't like to see a 'black person' as their head of the economy. But, when he did not listen to them, they terminated him from his post without prior notice and removed all the records of his work from the website. They even tried to show him a different document stating that they are keeping his contribution but removed his existence from the documents they share with their partners. The world bank stated that the work record of Dr. Yonas Biru was 'too good for a black man' and his accomplishments were 'hagiographic.'
Current Development of Event
It has been more than a decade since the case of Dr. Yonas Biru, yet there has been no result. As the laws of any country do not bind the World Bank, no country can enquire about their extreme racial discrimination. As a result, racial discrimination has become a systemic process in World Bank and its allies EU, OECD, and IMF.
As the World Bank is immune to any lawsuit, Dr. Yonas Biru asked for a pledge to the US Court for racial discrimination, and World Bank justified its act by explaining it as the business rationale, which the letter proved to be wrong. Dr. Biru asked for two things, for the World Bank to reconsider its decision regarding this racial discrimination and to restore his title and leadership role.
While the termination of Dr. Biru was pending and creating an uproar, Obama's administration requested the word bank to resolve the issue and make a fair judgment but the then president of the World Bank, Robert Zoellick, rejected the request.
When Robert Zoellick retired as the President of the World Bank, and Jim Yong Kim took charge, people thought the case would be resolved lawfully. But not only did he ignore the case altogether, he also enforced an act through which the USA could not withhold any funding from the World Bank no matter their treatment of their employees. As a result, the USA could no longer ask for their cooperation and resolve the issue.
So Dr. Yonas Biru started to explain and talk to more people to make the issue known to mass people, but that did not bring any result, except people knowing what was going on within the World Bank. On January 12, 2019, Dr. Biru started a hunger strike asking for justice, which ended in vain.
Net Worth & Social Media Presence
There is no information about the annual income or net worth of doctor Yonas Biru on the internet. Though he is a talented and extraordinary individual in the economy, he did not get much appreciation for his contribution, nor is he being recognized now.
Though Dr. Yonas Biru has a LinkedIn and Twitter account, he is not much active on social media. There is almost no information about his work progress or daily life activity on the Internet. You will find some discussions and interviews on YouTube, but he does not have any YouTube accounts. Because he does not have much online presence, getting information about him is even more difficult.