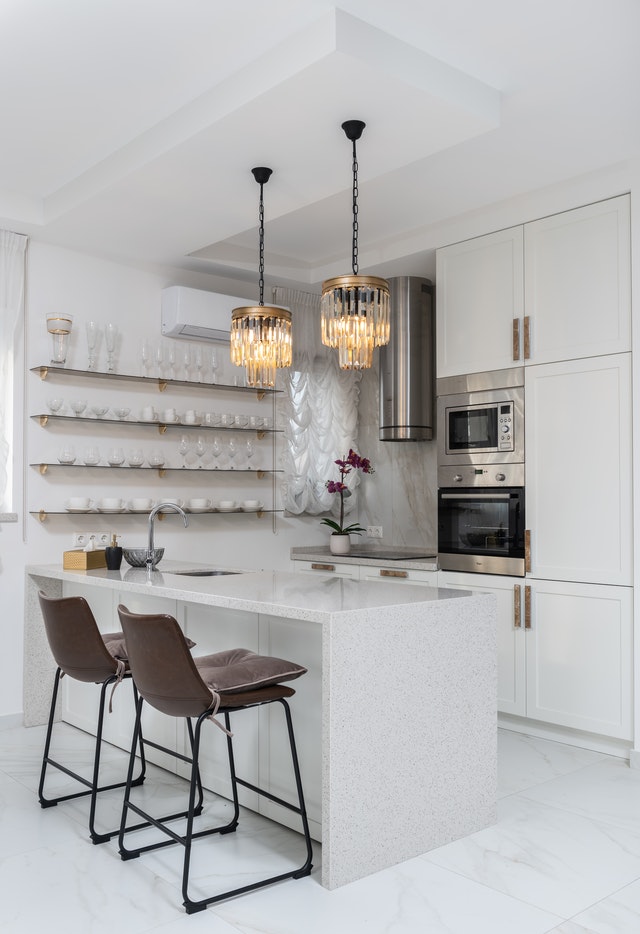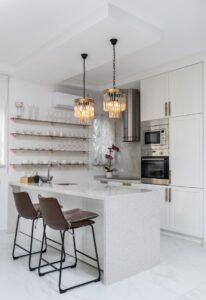 Nowadays, most homeowners prefer installing built-in wall ovens over cooking ranges or stoves. Because this cooking appliance brings flexibility and convenience while preparing dishes like pizza. Connect another appliance like a microwave to make the best use of the single or double wall ovens. Whether it's a kitchen renovation or remodelling project, a well-designed oven will be a valuable addition.
But checking the design or price isn't enough while buying the right wall oven. Every homeowner should look for the oven's features before making the ultimate decision. Additionally, the oven manufacturers have equipped different temperature changing features to improve the cooking experience.
You can also remotely access the wall ovens via a compatible mobile application. And, it's also important to determine the kitchen space, before getting a wall oven. There are plenty of compact-sized ovens which you can install anywhere in the kitchen. For cooking multiple dishes at a time, you can also go with the 30-inch high-functional ovens.
Make sure to check the longevity of the wall oven, that's also important. Don't forget to evaluate the performance of this home appliance beforehand. The advanced wall ovens come with an effective self-clean option. Having this feature makes the oven cleaning process easier and less daunting. Moreover, there are wall ovens that can suit all oven-related cooking requirements.
Do you know which wall ovens will be worth buying in 2021? Here, we have enlisted the top-rated ovens which got positive customer feedbacks:
1.   Bosch HBL8453UC — Awarded as the Best Wall Oven
Bosch's contribution is worth mentioning when it comes to providing high-end appliances. And, HBL8453UC is not an exception among them. This Bosch product is long-lasting and provides powerpack performance.
With this Bosch 800 series oven, the users can mitigate a wide range of cooking needs. It comes with a QuistClose door, super-responsive touch controls and Steel Touch buttons. Additionally, consumers can easily put the food delicacies in this Bosch oven's racks.
Bosch HBL8453UC is easy to install and requires less maintenance. Make sure to clean properly to prevent unpleasant smells from this oven. Moreover, Bosch has included a HomeConnect Wi-Fi feature in this top-rated wall oven. This means you can turn on or off this appliance anytime and anywhere from an app.
Furthermore, users can check the remaining time of the oven's cooking processes. Certain food items like soufflé or egg dishes require preheating. With this Bosch oven, you can do that with ease. Open the mobile application, set the preheating time to get the best cooking results. But, make sure to adjust the temperature before initiating the preheating process.
Additional features
Do you know what the best part of this Bosch's wall oven is? Starting from roasting to baking to broiling, you will get everything in this oven. Furthermore, with this all-in-one oven, the users can keep the food warm for a prolonged period. Consider using its meat probe feature if you want to cook meats at the right temperature.
Bosch has added this meat thermometer for monitoring the meat cooking temperature. You can even change this temperature in the middle of the process if required. It also has separate programming modes for making pizzas and cookie dough. And, if the oven stops working, don't delay in contacting oven repair services experts.
2.   Thermador MED301WS — Comes with the Best Features
When it comes to accessibility and performance, Thermador's ovens are hard to beat. Thermador's oven remains a constant choice of consumers because of its durability. And, MED301WS also falls into that category. Its design and incredible features make it one of the best wall ovens of 2021.
Starting from baked chicken to sandwiches, cook everything in this kitchen appliance. Moreover, Thermador's MED301WS holds almost a 12-pound capacity. This means the users can prepare a wide range of items at the same time in this oven.
This Thermador appliance became a top-rated wall oven for offering 16 programming modes. And, these include Slow Roast, Bake, Broil, Roast, Convection Bake, Pizza, Warm, and Dehydrate. Thermador MED301WS features great cooking options, like Rotisserie, True Convection, and Max Convection Broil. There are a few more cooking programs in this wall oven — you get Speed Convention, Max Convection Broil and also Convection Roast.
Additional Features
Its HomeConnect Wi-Fi feature has gained immense appreciation from users. Make sure to connect this smart appliance and the mobile app to the same wireless network. Or else, you will face difficulty while remotely controlling this Thermador product. Do you need cooking tips or want to explore new recipes? You will get that in the Home Connect application. Additionally, users can acquire detailed information about Thermador's MED301WS programs.
Don't forget to enable the "Active Tracking" option to make the best use of this Thermador-based mobile app. Moreover, this wall oven comes with Soft Close door hinges and Halo-gen lighting. Its 3 telescopic racks are ideal for cooking heavier food items. Consider cleaning these racks to keep the oven in a top-notch condition.
Opt for choosing the "Self-Clean" button to complete the cleaning process within an hour or two. With MED301WS's exclusive meat probe feature, check the three rack's cooking temperature. You can even connect this oven with a Thermador's coffee maker with ease. So, what are you waiting for? Visit an e-commerce store and check whether this wall oven is available or not.
3.   GE Profile PTS7000SNSS — An Affordable Single Wall Oven
Do you need an energy-efficient electric wall oven? Then, go with this one. GE has added notable features in this oven to elevate the user's expectations. This oven is designed for full-convection cooking and has an excellent touchscreen display.
Not all dishes require preheating, right? Now, you can skip that with GE Profile PTS7000SNSS. Do you want to make crispy french fries? Use this GE appliance's Air Fryer mode; it also consumes less oil for preparing crunchy snacks.
Moreover, the users have liked the Wi-Fi connectivity features of GE Profile PTS7000SNSS. Remove the clutter from the oven with its remarkable self-cleaning feature. Additionally, you can make this device odor-free with its steam cleaning option. This wall oven also comes with sustainable roller racks which can be removed easily.
With this GE oven's scan-to-cook technology, you can bake the pre-packaged frozen foods. All you need to do is scan the barcode of the food items before putting them in the oven's rack.
Additional features
Download the GE appliance's kitchen app, and it supports both Android and iOS devices. From there, monitor the oven's cooking functions efficiently. It will be helpful in preventing food burning problems.
GE Profile PTS7000SNSS contains a 10-pass bake element feature. Do you know the purpose of this cooking operation? GE has equipped this feature to ensure that every inch of food is baked evenly. Additionally, it also has a 10-pass dual-broil element which provides excellent boiled coverage.
There are four oven settings in this GE appliance, and these are — Sabbath Mode, Delay Bake/Start, Proofing, and Keep Warm. The users get the opportunity to connect the oven with smart voice assistants like Alexa. Did you recently buy Google Assistant? GE Profile PTS7000SNSS will work with that as well. So, if you want a 30-inch oven at a reasonable price, buy this GE wall oven.
4.   Empava 24WOC02 — An All-in-One Wall Oven
If you are looking for a 24-inch wall oven. Then, this Empava oven can be the go-to device. This electric oven comes with 2-layer tempered glass, which is for preventing burns. It also has 10 different cooking modes, including bake, convection roast and Rotisserie. Moreover, there is also an easy-to-clean enamel container in this kitchen appliance. Remove the excessive heat, smoke and steam with its incredibly designed exhaust system.
Additional features
Starting from broil to grill to preheat, you can do everything in this Empava appliance. For fulfilling the consumer's unique cooking needs, Empava's 24WOC02 is ideal. Empava 24WOC02's stainless steel design has captured the eyes of millions of users. Moreover, it also features a rack that can be installed in five different positions. These sorts of elements have made the baking or heating process more convenient. This Empava product is also easy to use and doesn't consume much energy.
Be it an apartment or office, and this wall oven is ideal for every kitchen space. This multi-purpose wall oven received high ratings from users across the globe. However, this electric-driven device takes quite some time to heat certain foods. Furthermore, the oven's glass doesn't come with an anti-stain or scratch capability. Thus, it has a high chance of getting cracked.
5.   Cafe CTS70DP2NS1 — Rated as the Best User-friendly Oven
By providing exceptional cooking performance, this oven has stood out from the competition. And, its full-colour touch display is what the experts have liked the most. From there, the users can switch from one cooking mode to another easily. This display will turn off automatically when it is no longer in use. Cafe CTS70DP2NS1's stainless steel finish has increased the value of this wall oven. It also has brushed copper and bronze texture in the handles.
Additional features
Discover new recipes and temperature-related information from Cafe's appliance-based app. It will give you a clear insight into the temperature required for a particular dish. Thus, you can protect the food from getting overcooked. Start the preheating procedure from the Cafe app to prepare the oven beforehand. Moreover, that will help the homeowners to save a lot of time while preparing their favourite meals.
Cafe CTS70DP2NS1 has a built-in exhaust fan which removes the warm air instantly. It also comes with an air fryer mode that eliminates the excess oil from the foods. And, this ultimately makes the foods healthier and prevents unwanted fat consumption. With this oven option, you can even opt for "deep-frying" different poultry and fish items.
CTS70DP2NS1 is one of the best Cafe products, which has improved the user's cooking skills. The Cafe is also planning to add a "dehydration" mode in this budget-friendly oven. With that feature, you can keep the device active for an indefinite time. So, bring this wall oven now and enhance the cooking experience.
6.   Miele H6281BP — Ideal for Every Homeowner
You must have already heard about the popularity of Miele's kitchen appliances. Being a renowned manufacturer, Miele manufactures premium-quality ovens. And, its H6281BP is one of the most purchased electric ovens that come with 9 cooking programs.
What can you do with those different dishes? Well, with Defrost, the users can defrost the foods at 75-150-degree Fahrenheit. Use its Gentle Bake feature for preparing items like lasagna. In Miele H6281BP's Broil mode, you cook seafood, meats and even vegetables. For preparing the different chicken parts at 200-500-degree Fahrenheit, activate its Convection Broil.
For more intensive broiling, use the "Maxi Broil" cooking program. Do you want to bake and roast the food items at the same time? Then, take advantage of this Miele oven's "Convection Bake" feature. Moreover, this mode keeps the temperature lower, which is required while baking/roasting.
Additional Feature
Miele's H6281BP features a convection fan that circulates air inside the oven. Additionally, for making tarts, pizzas and pies, consider switching to "Intensive Bake" mode. Make sure to keep the temperature between 125-475-degree Fahrenheit while baking these items. And, if you want to make it at a low temperature, use this Miele oven's Surround mode.
There is also a "Bake" mode which is designed for baking crispy cookies. It also has three different self-cleaning modes — heavy, light and very heavy. With these cleaning options, you can get rid of the oven's contaminants with ease. But, make sure to remove the racks before starting the cleaning process. Take out the food crumbs from the oven to safely perform the cleaning jobs.
Double Oven vs Single Oven: Which Wall Oven Will be the Best in 2021?
Undeniably, it's always better to have two ovens rather than investing in one. Because the double ovens come with a wide range of cooking options. And, with it, you can cook two different types of food items simultaneously without any hassle. But, if you often use this kitchen appliance, then opt for buying a single oven. It comes at an affordable price and fulfils the minimum cooking requirements. So, now it's up to you! Take time to research, and choose the best oven which will serve your cooking purposes.