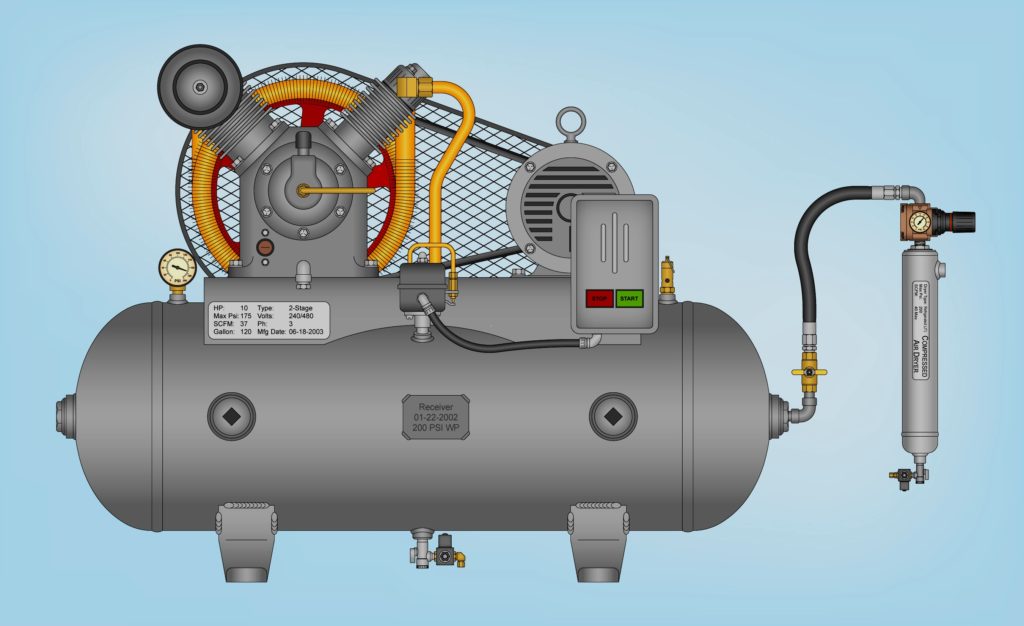 For any DIY enthusiast, an air compressor is a crucial tool. It has widespread usage, and many people do not realize it.
Do you prefer to handle things on your own instead of running to a professional for every minor thing? If the answer is yes, you need to have one at your disposal.
The goal of this article is not only to show you the best air compressor in the market but also to give you a better understanding of why you need to have one in your inventory.
So, let us not delay any further and dive right in!
Why Should You Buy an Air Compressor?
Generally speaking, an air compressor uses a kind of motor or engine to pressurize air into a storage tank. The compressed air is then released at your chosen pressure when you need it. Usually, air compressor comes with an option to control the amount of discharged air.
Though the technical aspects of these units are far more complicated, this basic information is all you need to understand what its uses are.
• Automobile Work
If you like to handle your car's maintenance on your own, you need to have an air compressor at hand. Whether you are changing fuel filters or installing PCV valves, with this device, the job becomes easy and effortless. Using this machine, you can also take the bolts in the tire off quickly.
• Spray Painting
This device makes spray painting a breeze. You can paint your furniture or chairs in a pinch by using a spray gun powered by your air compressor. If you paint with a brush instead, you would be looking at a lot of work hours. It provides efficiency and saves a lot of time.
• Carpentry
Do you like to dabble in the art of woodworking occasionally? If so, then you must have a nail gun lying around somewhere. Using an air compressor powered nail gun will save you a lot of money instead of using a battery-operated one. On top of that, this type of nail gun is lighter and easy to use.
• Versatility
Apart from the uses mentioned above, an air compressor has a lot more functions. For instance, you can hook it up to an air blower and clean up your workshop. Or maybe you need to inflate a bicycle tire? An air compressor is a super handy tool to have around for whatever you need.
Top 10 Picks for the Best Air Compressor
Here are our top picks for the best air compressor in the market that you can buy. Our selected units are versatile and feature a lot of different functions so that you can use it for whatever reasons you desire.
They also come in a wide range of prices so that you can safely choose one without putting too much strain on your wallet.
1. Makita 2.5 HP Air Compressor(Our Choice)
Are you waiting to be introduced to a machine that is faultless to reduce your work stress and result in a lucrative production? Then, your waiting is finally over because the Makita air compressor is here, which can be acclaimed as the best industrial air compressor.
Oil is a vital fluid that is used to lubricate the inner part, which is the core segment for running any machine. Apparatus, which does not use oil, wears after a few months; while, it ensures the durability of the device.
Therefore, your motor gets protection from quick corrosion. The oil also keeps your tool cool at high temperatures and prevents it from sudden damage.
It is essential to have an efficient pump that will help you give your best performance. The cast iron pump with a cylinder and piston provides the most required output. As the former has larger bore and stroke, more air is compressed; so, you can enjoy a compelling production.
Nothing can be better than iron for constructing it to ensure its durability. As you have to take it to different sites, the metal acts as a shield to prevent rust formation. Moreover, its roll cage is also designed to protect it.
Also, it can reach the pressure of 130 PSI, delivering 40 PSI and 90 PSI for the best performance of two nailers simultaneously. For the intake of the maximum amount of air, air filters are inserted. Additionally, its noise is not sharp enough to destroy your ears.
  Pros
The perfectly designed cylinder means higher efficiency
It is rust-proof due to the use of iron
You can operate two nailers with maximum power
As it is oil-free, durability is highly maintained
  Cons
It might not function in cold weather
2. PORTER-CABLE C2002 Pancake Compressor
Nowadays, you can complete any work due to the invention of beneficial machines. If you consider particular compressors, you can do any task with those. The PORTABLE-CABLE C2002 has all the features to let you use it for any purpose.
And the feature of being able to hold 6 gallons of air is exceptional. Due to such a capacity, you can use it for an extended period without being worried about spending extra money. Additionally, its storage ability results in an intense pressure of 150 PSI.
You can consider it as the best air compressor for air tools as its pressure is high enough to drive any type of those. Almost all sorts of activities can be done. You can inflate tires of different sizes, drive nailers without a break, remove leaves from the ground, or power household utensils.
Furthermore, the motor requires only 120V to generate, focusing on the fact that even in a cold atmosphere, you can use it efficiently. Its potentiality ensures its usage even in typical situations. Additionally, your oil-free pump will function just as it does in warm temperature.
A water drain valve is added to draw off water from the appliance. This addition is essential to let you use it for any purpose confirming its durability. If once its functionality is hampered, it will be challenging to repair.
For the stable placement on any surface, its feet are covered with rubber, which also keeps your tiles scratch-free.
  Pros
The water drain valve protects your tool from damage
You can use it in the cold atmosphere as it is oil-free
The maximum pressure can drive any tools
Its storage capacity means usage for a long time
  Cons
You might have to change the valve after a few months
3. Makita MAC700 Big Bore 2.0 HP Air Compressor
Before buying a product, it is essential to know about the material that is used to construct it. This Makita MAC700 Big Bore has all the necessary qualities to make it the best air compressor for automotive air tools.
A cylinder of large bore and stroke is made of cast iron, which is crucial to ensure durability. After buying it, you should be able to use it for an extended period. You can take it to typical job sites, which quickly initiate rust formation on its surface as now the cast iron has made it corrosion resistant. Furthermore, it saves you money.
The tank of 2.6 gallons can produce a maximum pressure of 130 PSI. As you have to work with tools that operate with a variety of pressure in a construction site, this range is mandatory. The pump has an automotive air filter, which is necessary to allow more air for effective performance.
It has an oil-lubricated pump that keeps its temperature low even after a random and continuous usage. Therefore, it keeps your object safe after extensive use. Due to this 1720 RPM pump, it generates less noise and lets you work with attentively.
Additionally, as it is lightweight, you can carry it anywhere. Its significantly designed roll-bar handle makes the carriage more comfortable. For further advancement, the discharging tube is made of copper to allow faster emission of heat for better maintenance.
  Pros
A cast iron pump is used to ensure durability
The pump remains cool due to being oil lubricated
Its roll-bar handle means easy transportability
The pressure range is essential for fulfilling its purpose
  Cons
4. California Air Tools 2010A Air Compressor
Specific tools have made life more comfortable. You can do your household chores smoothly without any professional help. For that, you will need a convenient device like the California Air Tools air compressor to help you do specific tasks effortlessly.
While buying compressors, the thing that worries you is the loudness. This product makes the lowest sound of only 60 decibels to allow you to work in a peaceful environment. You can put all your concentration on it and finish it as early as possible.
Additionally, the design of the motor plays a vital role in its quicker and continuous operation. The presence of oil in a machine means extra tension. You will have to notice when its level drops and then fill its tank again. In cold weather, the oil settles down rapidly; it becomes hard to function.
Moreover, only 110V is required to start it. Therefore, all these mean that you can use the gadget under any natural condition.
It is made of aluminum to ensure durability. Also, it makes your device lightweight for you to carry it from one place to another easily. The aluminum has a significant property to keep the surface rust-proof and keep it new as long as possible. Furthermore, the addition of the handle has made your work easier.
Besides all the features that make it light and ensure faster transport, its ability to hold about 2 gallons of air adds to the traits. This amount can exert enough pressure on the usage of different tools in a construction site.
  Pros
You can enjoy a compressor with the lowest sound
Its oil-free pump reduces maintenance
The use of aluminum means ensured durability
Its powerful motor ensures effective production
  Cons
The cord might seem shorter to you
5. Excell Sac22Hpe Air Compressor
While buying a product, you do not only think of its efficiency but also consider its size to be easily stored. Acknowledging all your concerns, a company has designed the Excell Sac22Hpe to let you enjoy your work. Its features make it highly recommendable.
One of its unusual traits is its roll cage design. It acts as a shield to protect all the sensitive parts of the device, ensuring its durability. Moreover, you can use it in any place due to its 100ft extension cord. You can plug the cable inside a house and carry it to further areas to complete your task.
The degree of temperature differs in different places. It becomes challenging to drive oil associated apparatus in a cold atmosphere; therefore, this pump is oil-free. For a professional, this feature is a vital one. Additionally, the motor requires only 90V, which is perfect to start a machine at any place. It makes your work easier.
Also, it is impossible to concentrate in a place where sound becomes a dominating factor. No matter what your job is, a silent site is necessary for a lucrative result.
Thus, to let you be more focused, this tool produces a sound of only 61 Decibels. Moreover, the highest pressure it can result in is 125 PSI, which is essential to run all types of devices.
Additionally, the stands are specially designed to maintain its stability as you have to place it over different surfaces. Due to its low weight, you can carry it to places you need to go. Furthermore, its handle is rubberized for a comfortable grip.
  Pros
The handle's grip is a very comfortable one
At low voltage, it can function in any circumstance
Its quiet nature lets you be more focused
Due to its design, its storage will occupy less space
  Cons
6. California Air Tools 8010 Air Compressor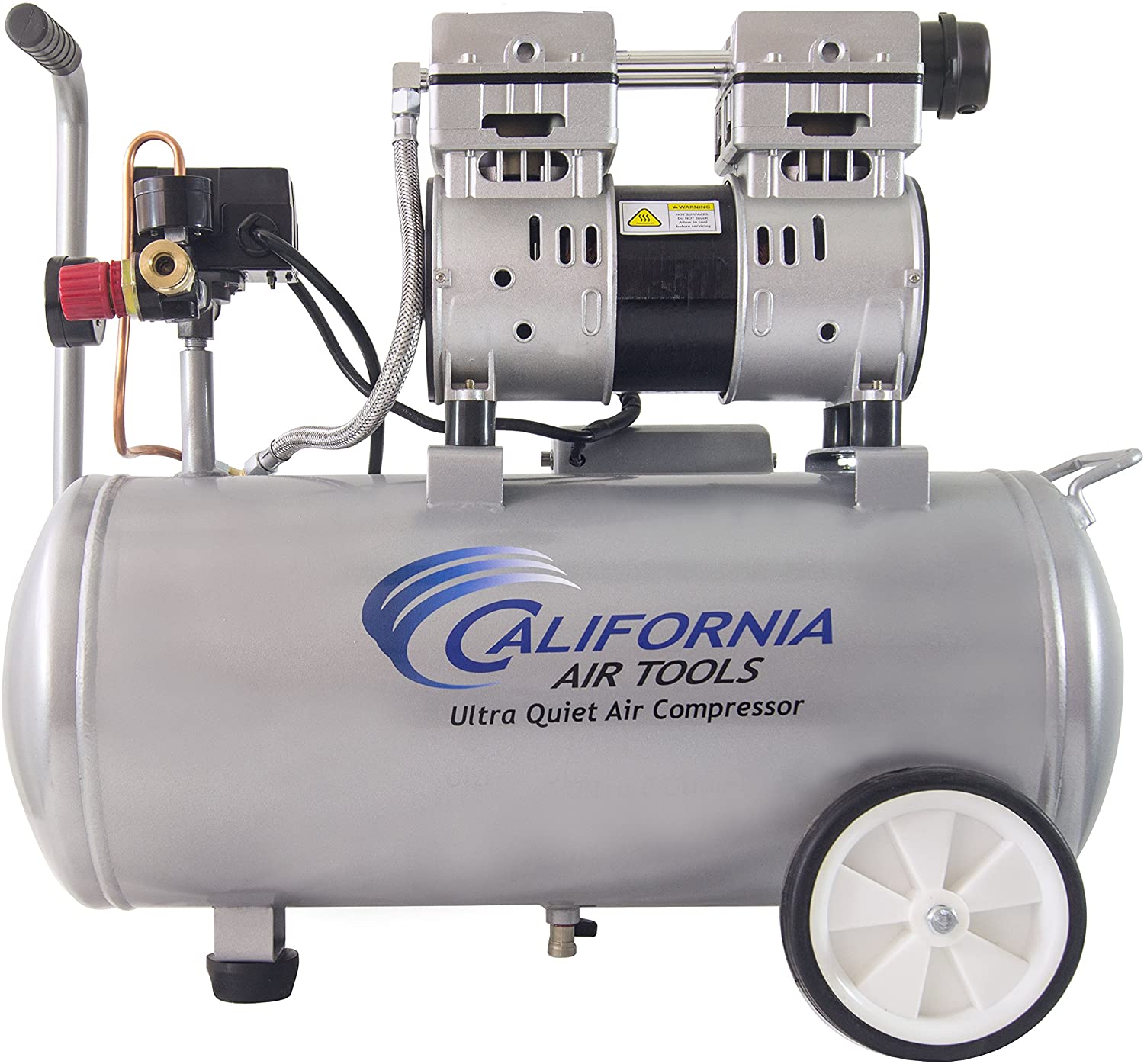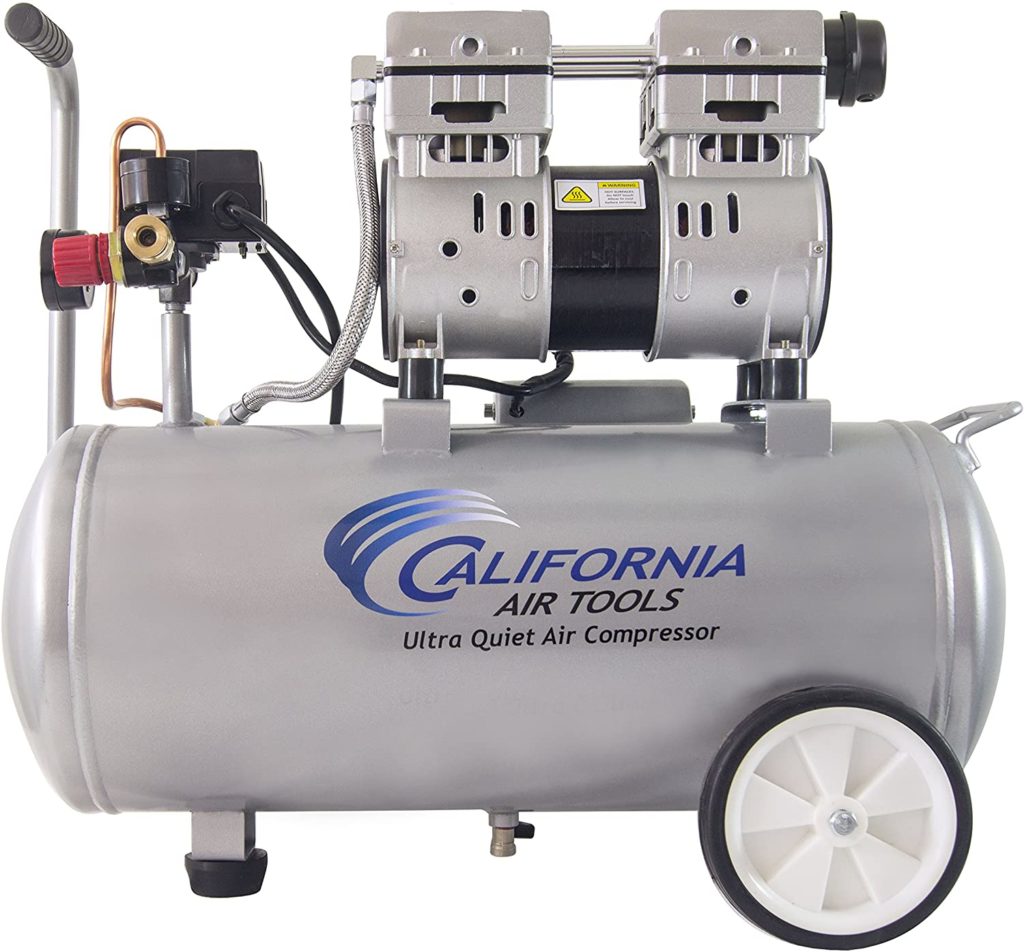 It is quite frustrating to work in a noisy environment as your creative productivity depends entirely on your concentration. To save you from this trouble, California Air Tools 8010 has been innovated. It consists of attractive features that will convince you to denote it as the best one.
To let you enjoy the environment of the working site, a motor that functions only at 1680 RPM, is used. It creates a noise of only 60 decibels. You can find it in other products rarely as very fewer companies are concerned about your stress. This trait keeps your ears protected, and you will not have to suffer from severe headaches.
The tank requires only 150 seconds to be filled up from its empty state. As time is a vital factor, this ability is noticeable. Even the recovery time is only 165 seconds. Therefore, a qualitative amount of time is saved.
Being able to be used at all temperatures makes the product worthy. As it is oil-free, you can undoubtedly operate it in a cold atmosphere, meaning that your work will not get delayed due to bad weather. It also saves your money as you do not have to take it to a mechanic.
With its maximum pressure of 120 PSI, it can drive any tool as many get effortlessly operated within this range. The massive capacity of the tank, which is 8 gallons, maintains this pressure. Wheels are introduced to be easily moved from one location to the other; therefore, you do not have to carry this bulky device and walk.
  Pros
It allows you to work peacefully
You can take it anywhere you want due to the presence of wheels
Less time is taken to fill up the tank
It can be used in any environment
  Cons
You might have to bear a smell while working
7. DEWALT Pancake Air Compressor (DWFP55126)
Are you in need of a tool that will raise your view in the eyes of others by being considered as a skilled person due to its outstanding qualities? A specific device such as the DeWalt DWFP55126 is constructed with such abilities to buy that you will not rethink twice.
An air compressor cannot be the best one until it generates maximum pressure to drive any tool, as each has a different requirement. Its tank of 6 gallons is enough to hold the highest amount of air.
Due to this feature, it not only ensures a longer use of the device before filling it up with air the second time but also results in giving out the desired pressure of 165 PSI.
There is a regulator that you can use to alter the degree of pressure for the tools to perform their best. As you have two couplers, two tasks can be accomplished simultaneously, saving your time, money, and effort.
You will not be disturbed at all by the noise of 75.5 dBA. It is highly tolerable as it does not cause trouble to your ears or other partners. The less the pitch, the more you can concentrate on your work. Furthermore, the motor's power will never disappoint you as its structure is expertly designed.
As it is oil-free, you do not have to worry about maintaining it frequently. You do not have to fill up the tank. Due to the low temperature, when the oil solidifies, it becomes hard to operate the gadget.
Therefore, you do not have to face any problem due to the absence of it. The stands are rubberized for stable placement on the ground and leave your floor mark-free.
  Pros
The maximum pressure is enough for the best productivity
Your working rate will not be affected by the pitch of the sound
Being oil-free, it does not need special attention
With regulators, you can determine the pressure
  Cons
Painting or sealing cannot be done by this apparatus
8. California Air Tools CAT-1P1060SP Air Compressor
It is difficult to find a device that can be easily used at home, and anyone can understand its functionality to inflate any object or perform trimming. To solve this issue, California Air Tools CAT-1P1060SP Air Compressor is invented that can be denoted as the best 110V air compressor.
At home, it is not suitable to use a tool that produces a sound of high frequency. It is harmful to people of all ages and also diverts your mind from work. This machine is only allowed to make a sound of 56 decibels as the motor operates at only 1680 RPM. Therefore, it keeps you focused.
Inside the house, such devices should be used, which are easy to be carried. So, it is only 34 pounds. For a comfortable grip, the handle is rubberized. You will not hurt your hands anymore.
The oil-free motor should be the first choice as it ensures that you do not have to spend extra money to maintain it in cold weather. A low temperature means the oil changes its state and dysfunctions. Therefore, you fail to use this at a specified period. So, for it being oil-free, you do not have to worry about expenses or situation.
As you will use it at home, a tank of 1 gallon is enough to produce a pressure of 120 PSI. Within this range, you can inflate many objects like toys, tire, or any containers.
  Pros
It provides you a noise-free environment
You can effortlessly carry it anywhere
An oil-free device is valid to be used
The pressure is high enough to drive any tools
  Cons
It is not perfect for industrial use
9. Stanley Bostitch 6 Gal. Pancake Air Compressor
You must have gone through a tough phase while choosing an air compressor to grant you satisfaction. Therefore, we present to you, Stanley Bostitch pancake air compressor, which is a praise-worthy invention. It is super convenient, allowing you to be superior to other workers.
And its ability to give out air at the pressure of max 150 PSI makes it exceptional. This highest degree is essential for some fields of work; therefore, you can use this tool appropriately.
Moreover, different devices require a different scale of pressure to accomplish their tasks. So, the product also includes a component to maximize or minimize the degree according to necessity.
As this device has an oil-free pump, you do not have to worry about its maintenance. In cold weather, oil settles down, and it becomes hard to be operated, slowing down your working rate. If you want to handle your work independently, then this feature is crucial as the use of oil makes it bulky and hard to be carried.
Additionally, for easy transport, the gadget has a handle. You must be transporting it from one place to another as you might even use it outside the house. Thus, the handle is a worthy addition. Due to the sharp end of the stands, scratches get imprinted on the floor. Hence, these are wrapped with rubber to avoid such marks.
If you want to finish your work quickly, then you will love the presence of two universal couplers. Two different tools can be used parallelly without any difficulties. Furthermore, it has a cord wrap to save your cord from entanglement.
  Pros
Its handle makes your work easier
You can alter the scale of pressure
Two tools can be attached and used simultaneously
The highest level of pressure is needed for a specific task
  Cons
You will be disappointed with the noise it creates
10. DEWALT DWFP55130 Trim Compressor
Are you looking for a quiet device that will be the best for trimming personally, if you do not want to call a carpenter at home? Or, if you are going to turn your hobby into a profession, you can grab the DeWalt DWFP55130 air compressor.
For you to use it for a long time and to produce maximum pressure, its tank of 2.5 gallons can hold enough air. The quantity level will not drop quickly, so you do not have to refill it repeatedly. Therefore, the movement and collision of air inside the tank result in a pressure of 200 PSI. You can alter the level using a regulator.
Moreover, the pump is designed in a way to exert the highest pressure at a speed of 2300 rpm. The motor is capable enough to rotate at its highest speed and result in the desired pressure. It ensures the quick end of your work with a successful result.
The maintenance of oil is very tough. It requires special care in the cold atmosphere as it loses its sustainability at a specific temperature. So, the oil-free pump allows you to use it at the lowest temperature. This gadget will not trouble you with its noise as it is low enough to be neglected. Its sound is of only 71.5 decibels.
You can easily carry it to any place as it weighs only 36 pounds. Its slim structure makes it easy to be stored inside a cabinet. The design is very appropriate to be handled by anyone.
  Pros
The tank capacity ensures that you do not have to worry about refilling
Its lightweight allows anyone to carry it
You can store it anywhere due to its small shape
Its oil-free property means you can use it in cold temperature
  Cons
It is not suitable for professional use
Things to Consider When Buying an Air Compressor
Finding the perfect air compressor for your needs can be a complicated process. You need to factor in a lot of different aspects before settling on a product. Knowledge is essential when it comes to investing in a specific device, and this section will give you just that.
The following section of the article will give you a preliminary knowledge of all the things you should look at before buying an air compressor.
• Horsepower
The horsepower of the motor determines the overall power of the engine. However, the market is saturated with products that exaggerate this specification to sell their devices better.
So, you should be careful about getting caught up in the high amount of horsepower marketed by the manufacturers. Usually, the HP shown in an industrial compressor will be the most accurate value you can find rather than one intended for domestic use.
To give you a scale of comparison, an actual 5 HP motor will be capable of delivering about 24 amps of power and will most likely require 220 volts of current to operate it.
• Air Pressure
Air pressure in the unit will determine which tools you can or cannot use with your air compressor. It is calculated using per square inch (PSI), and you should always check this spec before you commit to a product.
Understanding which tools you want to use with the device will help you better realize which compressor you need. Most products come with sufficient PSI to power the essential air tools.
You need at least 90 PSI to run most primary air tools, and most hobby air compressors come with around 125 to 135 PSI. However, if you want to go for heavy-duty works, you need a higher value air compressor.
• SCFM
SCFM is the short form of standard cubic feet per minute and is an essential value to consider when buying an air compressor. It is a volume component of how much flow a compressor is putting into the system. Similar to PSI value, this value also contributes to the type of tool you can use with the device.
So, before you head out to buy an air compressor, you need to take a look at your tools. The tools will most likely be rated for CFM values that will give you an idea of the type of device you need to run it. With a machine of small CFM value, you cannot expect to operate massive air tools.
• Size of the Tank
This factor depends on what you intend to get out of the unit. It is calculated in gallons and determines how much air you can store in the device. If the tank of the machine is more significant, you can collect more air, which in turn leads to an extended application period.
In case you want to use the unit with a nail gun or similar tools, you can get away with a small-sized tank since you would be applying short bursts of air. But if you want a longer period of use with a steady flow of air, you might need a larger tank. Spray painting is an example of such applications.
• Oil or Oil-Free
There are two types of air compressors available in the market: one that uses oil as lubrication and one that does not. Deciding between the two will help narrow down your list of options when choosing a compressor. And to decide you need to understand why it is used.
Oil-lubricated compressors make use of oil to keep the moving parts running smoothly. This type of unit is heavy and requires lubrication to keep the moving parts fresh and active.
On the other hand, oil-free compressors come in a smaller form factor. They are lighter and are quite popular because of their portability and ease of use.
• Single-Stage or Dual-Stage Compressors
Single-stage compressors usually come with one or more cylinder that directly pumps air into the container. Dual-stage compressors, however, come with two barrels that pump air from one to the next and then stores it in the tank. This type of compressor is capable of producing higher pressure.
Contrary to popular belief, a dual-stage compressor is not automatically better than a single-stage compressor. There are good and bad products in both types. However, dual-stage compressors are usually made with greater care since they are used in industrial works.
• Power Source
An air compressor runs with two types of power; gas or electricity. You need to pick one based on your available resource, workplace, and intended use. Electricity powered air compressors require an electrical outlet and run on 110-240V current. You need constant power connections when using this type of device.
Gas-powered compressors, on the other hand, use fuel and do not require any additional external power. Since they do not require an active connection to a wall socket, they are useful for outdoor jobs. However, electrical compressors are better for inside jobs because of no fume emissions.
• Available Space
It is an often-overlooked issue that results in you ending up with a device that you cannot store easily. If you have a small storage room, getting a large unit will most likely be the wrong decision. Air compressors come in many sizes, and you should choose the one that is the most practical.
Consider a scenario where you can afford to get the most high-end device in the market. But if you do not have the space to accommodate the equipment, there is no use for it. So always make sure that the device you choose will be able to fit your workspace.
• Portability
Portability is an important thing to consider if you plan to move around a lot with your device. Most air compressors tend to be quite bulky, which discourages movement. But there are portable models available in the market if you need them. However, keep in mind that their power might not be as much.
Portable models are perfect for DIY-ers who need to take their work to different locations. If you do not plan on doing any heavy-duty work with your air compressor, you might be able to get away with a smaller and more portable unit. These are suitable for most low-profile jobs.
• Noise Level
Air compressors can make a lot of ruckuses when in operation, and it might be uncomfortable to work for a long time in a noisy environment. Whenever you are working with such a device, you should wear noise-canceling headphones to protect your ears.
And when you're buying a compressor, keep your workspace in mind. Do not go for a product that is too loud for your small workshop. You can usually find the sound level that a device creates in the product specification section. It might not seem like a big thing to consider at first, but trust us, it is crucial for a pleasant experience.
Types of Air Compressors
Air compressors come in many sizes and with many different features. But when you think of how they handle air pressure, there are three main types. They are:
• Reciprocating Air Compressors
This type of air compressor uses positive displacement, which means it increases pressure in the air by decreasing its volume. A piston located inside the cylinder of the unit works as the displacing element in this type of device. It compresses the bulk of the air, which results in high pressure.
The working process of this type of device is simple, which makes the setup process quick and effortless. But the downside of this device is that it comes with a lot of moving parts. With more moving parts, the risk of malfunction is higher. For this reason, the durability of the unit is directly linked to its size.
• Centrifugal Air Compressors
This is a dynamic air compressor that transfers the energy generated from a rotating impeller. Because of the continuous flow of air through the compressor, it is capable of higher capacity of pressurized air. These units are typically oil-free and come with atmospheric vents and shaft seals to separate the running gears.
The downside of this type of device is the high startup cost. Even after spending a handful to buy a unit, you still need to spend more to get it installed. However, once it is set up, maintenance of the unit is quite easy. It is an efficient way of compressing air and can create up to 1200 PSI without any problem.
• Rotary Screw Air Compressor
This is another positive displacement compressor and makes use of two rotors inside the case to compress the air. Their rotors are oil lubricated, and the oil coolers are further cooled using air or water. Since the moving parts constantly kept at low temperatures, these units can be used for an extended period.
These units are affordable and also quite easy to install. Because of its simple design and low amount of moving parts, its durability is also quite high. However, if it breaks down, you would have a hard time to get it repaired.
Frequently Asked Questions
Here we have some of the most commonly asked queries regarding air compressors:
1. What should I look for when trying to use an air compressor with my air tool?
To run a specific air tool, you need to consult the specification of the said tool. You need to consider the PSI and CFM of the air compressor and make sure that it exceeds that of the device you are trying to use with it.
2. Can I use an HVLP gun with an air compressor?
Yes, you can. However, since an HVLP gun requires an extensive volume of pressurized air, it is not the best candidate. If you do decide to go this route, you would need a heavy-duty air compressor, which can be quite expensive.
3. What sets apart CFM and SCFM?
CFM stands for cubic feet per minute, which is used to understand the airflow in a device. The value varies from unit to unit. SCFM, on the other hand, is the fixed unit of airflow under standard temperature and pressure.
4. Is more CFM better?
Yes, a higher value of CFM means more air can pass through your device, keeping it cool and functional.
5. What does the duty cycle on an air compressor mean?
The duty cycle is usually shown as a percentage, which indicates the amount of time it should spend resting after use. For example, a device with a 75% duty cycle means that if you use it for 45 minutes, it should rest for at least 15 minutes.
You also like: Best Steam Cleaner for Tile and Grout
Final Thoughts
To wrap things up, an air compressor is a tool that should never be ignored or overlooked by any DIY worker. Whether it is a simple cleaning job or extensive home projects, this device is super handy and also quite affordable if you know where to look.
We hope this extensive review of the best air compressor and buying guide could help you narrow down your choice of devices. So why wait around, go out and get one today.